Computer usage statistics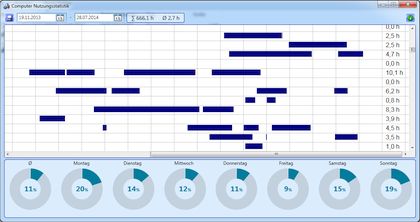 Graphically displays the frequency of use and use of your computer.
This program graphically displays the usage statistics of your computer/notebook in an overview.
Following questions be answered:
When turned on my computer?
How long did my computer?
When I turned my computer off?
How often I'm on the computer?
How long am I average on the PC?
How many hours has my laptop?
Days of the week is my computer most frequently used?
When was my laptop turned on?
For this application, the Microsoft Framework .NET 4.0 is necessary. Click here to download the framework.