Audio Extractor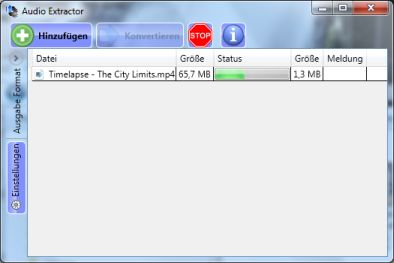 Extract the audio track from many multimedia files and converts them to MP3 or similar formats.
The topster.net Audio Extractor converts videos or music files to MP3 or a similar format.
The tool knows the most multimedia formats and extracts the audio track such formats. For the desired multimedia files into the program must be moved and even the tool created the audio files (MP3, M4A, OGG or WAV). It is very easy to use.
Supported input formats (and much more):
AAC, AMR, AVI, FLV, MPEG, MP3, MP4, MPG, OGG, WAV, WEBM, WMA, WMV, 3GP
Supported output formats:
MP3, M4A, OGG, WAV
For this application, the Microsoft Framework .NET 4.0 is necessary. Click here to download the framework.